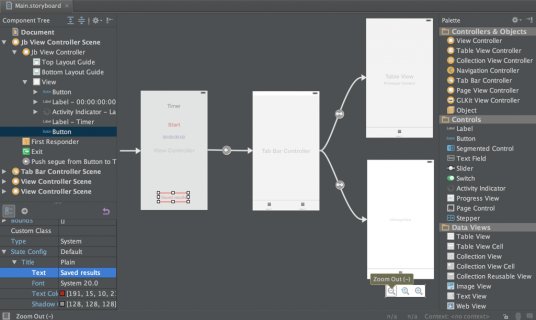 Objective-C c semantics
Does Objective-C has something similar or may be there are some ways to implement/emulate this?
Nope. That's not a huge issue, once you have digested the abstraction layer you are working at with Objective-C. Understand that objects are reference counted and are heap allocations.
Now there are two ways you can take this:
a) Use Objective-C++ - Just mix and match the language features to your content.
b) Use idiomatic Objective-C. This goes back a long time. Once you accept that objects are reference counted heap allocations and there is no way around that (with clang), then you learn to approach programs differently. Sure, reference counting everything and putting it on the heap has costs, but you can take advantage of those traits in some scenarios. The most notable uses are the use of immutable objects and shallow copying. Copying a std::string as object is going to result in SSO copy or a heap allocation. Copying an NSString could simply return itself (after incrementing the reference count or not, depending on the type of string it is, it may also need to create a concrete copy at that point). As well, these objects are all just pointers, so you don't need to actively be concerned with how to pass an object (value/reference/const reference/move). A far simpler model exists in ObjC, which can be exploited. So there is a shift in design here: there is less "value dominance" in ObjC and more of "favor immutability and sharing".
In some cases, you can write a move method. Since common framework classes do not support this, it typically makes more sense to use object composition.
Since objects are allocated on the heap, moves are not so important. Well designed classes take costs into consideration to minimize huge/expensive copies, and internally use some interesting optimizations. The idiom just suggests that you should take a different approach to creating your classes - how do they share data? What is mutable? What must be copied? Sometimes, you might be dealing with big, mutable/expensive data and a move would be convenient, but you could often just place that in a shared container object or reconsider semantics of your objects' initialization in order to minimize physical copying (and avoid odd semantics in object interfaces). Beyond that, I don't see moves as being very useful all too often in pure Objective-C. Of course, they become important for C++ libraries which have been designed to make use of move semantics and are able to create objects in several memory locations. If you do move, you would usually want to keep that detail private or make it really obvious (e.g. I have done that in a rendering pipeline to minimize big allocations for each filter).
Willow Tree Inquisitive Child


Home (DEMDACO - Home)




Nurtured by your loving care
Figurine is 3 tall
Artist Susan Lordi hand carves the original of each Willow Tree figurine from her art studio on Kansas City, Missouri
Willow Tree is an intimate line of figurative sculptures that speak in quiet ways to heal, comfort, protect and inspire
Arrives in a gift box, ready for gift giving with an enclosure card
72 Piece Mini Unit Bricks Architect Set - (Wood Building / Stacking Blocks - Toy for Kids & Children 3 Years & Up)


Toy (Unit Bricks)




3-4 year olds are detail-oriented, capable of matching and grouping items by shape and color. Just starting to exercise their imaginations with pretend play, at...
5-6 year olds are investigators, able to hypothesize about their surroundings and test theories in play situations. They take pride in the final product of their...
7-8 year olds have a stronger sense of self and are more comfortable taking risks with hands-on experimentation. They can engage in complex problem solving and communicate...
Are you looking for an educational toy for your kids or even someone else s children to enjoy? Look no further, Unit Bricks makes an excellent gift for boys or...
A brick is the basic unit of most building foundations. It s also the basic unit of key learning foundations. Simple unit brick play empowers kids and ignites their...
iPhone 6 Ouija Board Case (TPU), for the Spiritually Inquisitive Individuals!


Wireless (Bodega on Madison)




To insure purchase of genuine products, please make sure to check out using Bodega on Madison s add to cart.
Designed, assembled, shipped from the USA (not from China) exclusively by Bodega on Madison.
Glove-like fit that firmly locks into place and minimizes collection of debris between mating surfaces.
Shock resistant rubber-like plastic polymer (NOT HARD PLASTIC) is smooth, yet flexible. Does not stretch or loses its shape after prolonged use. Does not cling to...
Allows full access to all exterior functional components

Inquisitive Octopus iPhone 6 Plus Shadow green Tough Phone Case


Wireless (FSKcase?)




Protect and style your Phone case with this Solid Protector case
New and High grade Hard Shell quality
Lightweight, semi-rigid protection
Smart design make access to all buttons be so easy to use
You can provide me the picture you like ,i will print it on the case .Above 800*800 PIX

being TRUE - Satin Lip Shine - Inquisitive


Beauty (beingTRUE)




beingTRUE
Satin Lip Shine
Modern color meets sophisticated shine.
Inquisitive