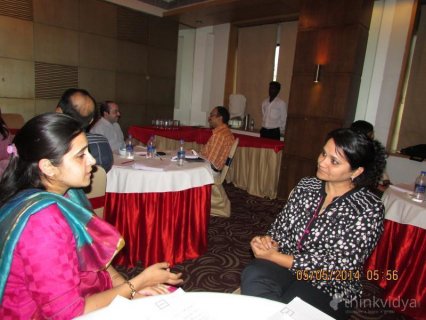 Neuro semantics the secret
Wealth Creation Ideas #5
L. Michael Hall, Ph.D.
"What lies behind us and what lies before us are tiny matters
compared to what lies within us."
Ralph Waldo Emerson
Would you like to explore a question that will help to identify how optimistic, success-oriented, and likely to succeed? If so, then notice what you immediately think when you hear the following question? What immediately pops into your mind?
If something goes wrong as your working on a project, or with a team, or on a highly critical objective, which would you prefer—to discover that it was something in your area or something external to yourself?
Now, I have to admit that this is a test question as you will soon discover. The trick to it will show why the preferred answer is counter-intuitive to how most of us think and how we have been trained to think. It also goes against how most of us are oriented in life— we are oriented to move away from a positive feeling and attitude about failure, failing, making mistakes, messing up, flobing it, or welcoming errors. I mean, really, who wants that? Yet, this is the paradox. It is by entering into this "dark" side of things, welcoming this shadow, and kissing this dragon that we actually take some powerful steps to greater success. How in the world does this work?
This counter-intuitive response involves numerous powerful frames of mind that put us into the very best states for ongoing development, unleashing new potentials, and using every experience for accelerating our learning. The paradox begins on the level of acceptance. Acceptance is the ability to look reality in the face without caving in. We call this ego-strength. This is the strength of mind and person (sense of self) to welcome reality for whatever it is for the purpose of analyzing it and figuring out how best to cope with it.
The paradox also goes right to the heart of responsibility, of taking and owning responsibility for one's life. It was Martin Seligman who discovered in his study of helplessness and optimism that when optimists experienced failure, they typically attributed their failure to something they did or did not do. They looked at their actions, words, relationships, and actions. This attitude in the face of failure is what enables them to take the next step, namely, "If I caused it, I can correct this." And that's where the power of persistent success lies. It lies in ownership of responsibility.
Conversely, those who deny any responsibility, who fear failure and mistakes, who dread being wrong more than anything move into denial, cover-up, projection, rationalization, and all of the other defense mechanisms. Yet these protective maneuvers actually reveal the person's inner insecurity and lack of ego-strength. So while the person is investing mind and emotion into defensiveness, the person fully at peace with his or her fallibility is looking those failed attempts directly in the face and harvesting learnings and wisdom. This puts that person miles ahead in moving toward his or her goals.
Doesn't this completely reframe failure, errors, and mess ups? Welcoming them enables us to learn from them more efficiently and so accelerates our development. And by seeing opportunities for wisdom in every action that didn't complete get the results we wanted, we embrace the failure as a rare and unprecedented opportunity to learn something critically important.
Willow Tree Inquisitive Child


Home (DEMDACO - Home)




Nurtured by your loving care
Figurine is 3 tall
Artist Susan Lordi hand carves the original of each Willow Tree figurine from her art studio on Kansas City, Missouri
Willow Tree is an intimate line of figurative sculptures that speak in quiet ways to heal, comfort, protect and inspire
Arrives in a gift box, ready for gift giving with an enclosure card
72 Piece Mini Unit Bricks Architect Set - (Wood Building / Stacking Blocks - Toy for Kids & Children 3 Years & Up)


Toy (Unit Bricks)




3-4 year olds are detail-oriented, capable of matching and grouping items by shape and color. Just starting to exercise their imaginations with pretend play, at...
5-6 year olds are investigators, able to hypothesize about their surroundings and test theories in play situations. They take pride in the final product of their...
7-8 year olds have a stronger sense of self and are more comfortable taking risks with hands-on experimentation. They can engage in complex problem solving and communicate...
Are you looking for an educational toy for your kids or even someone else s children to enjoy? Look no further, Unit Bricks makes an excellent gift for boys or...
A brick is the basic unit of most building foundations. It s also the basic unit of key learning foundations. Simple unit brick play empowers kids and ignites their...
iPhone 6 Ouija Board Case (TPU), for the Spiritually Inquisitive Individuals!


Wireless (Bodega on Madison)




To insure purchase of genuine products, please make sure to check out using Bodega on Madison s add to cart.
Designed, assembled, shipped from the USA (not from China) exclusively by Bodega on Madison.
Glove-like fit that firmly locks into place and minimizes collection of debris between mating surfaces.
Shock resistant rubber-like plastic polymer (NOT HARD PLASTIC) is smooth, yet flexible. Does not stretch or loses its shape after prolonged use. Does not cling to...
Allows full access to all exterior functional components

Inquisitive Octopus iPhone 6 Plus Shadow green Tough Phone Case


Wireless (FSKcase?)




Protect and style your Phone case with this Solid Protector case
New and High grade Hard Shell quality
Lightweight, semi-rigid protection
Smart design make access to all buttons be so easy to use
You can provide me the picture you like ,i will print it on the case .Above 800*800 PIX

being TRUE - Satin Lip Shine - Inquisitive


Beauty (beingTRUE)




beingTRUE
Satin Lip Shine
Modern color meets sophisticated shine.
Inquisitive